CS Health Officiates Signing of KEMSA Performance Contract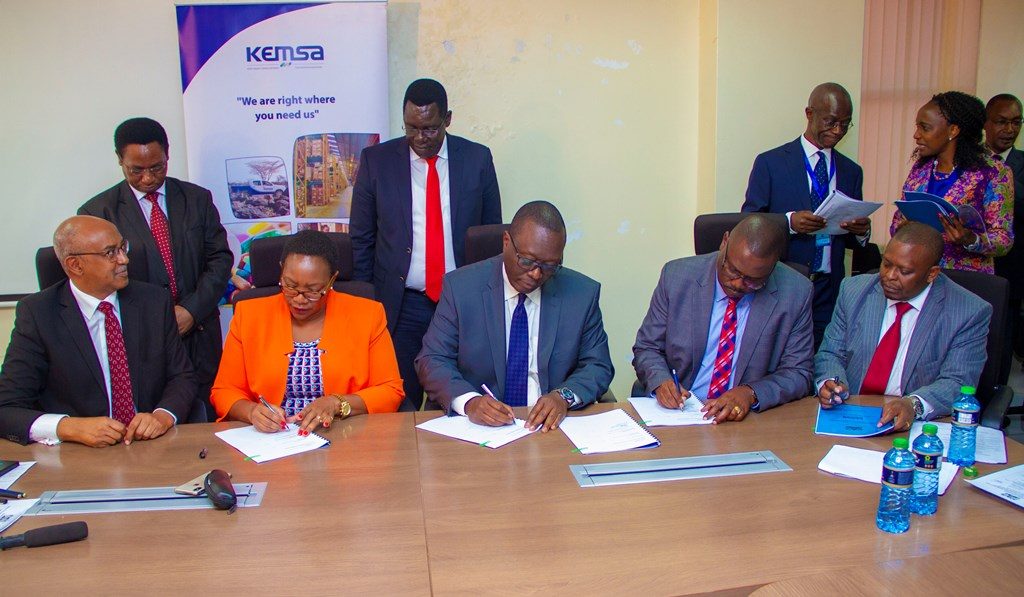 (From L) Health CS Sicily Kariuki, KEMSA Acting Board Chairman Mr. Andrew Onyach, Board Director Tom Wambua and KEMSA CEO Dr. Jonah Manjari signing KEMSA Performance Contract (PC) at the Ministry of Health Annex, Nascop
The CS Health, Sicily Kariuki today officiated the signing of KEMSA'S Performance Contract setting clear targets on the Authority's role in realization of Universal Health Coverage.
Sicily said the goal of the Performance Contract is geared towards improving accessibility, affordability and quality healthcare.
The Ministry of Health (MOH) will continue to play an oversight role by strengthening its performance committee to follow up on implementation," said Sicily.
She continued, "I wish to emphasize that there is importance of collective responsibility between board chair and CEO, the board chair will have to answer for overall performance and the CEOs for the day to day performance."
Attending the signing ceremony held at the Ministry of Health Annex, Nascop, is the Acting KEMSA Board Chair, Mr Andrew Onyach, Board Director, Tom Wambua and the CEO Dr Jonah Manjari.
The CS stressed on the need for proper utilization of resources in promoting optimal performance of institutions under the Ministry of Health.
"One of the key issues that will contribute to improved performance is to ensure that before the commencent of any project, it must be approved by MOH. Only then can we see to it that resources are used well," said the CS.
Meanwhile she called for timely submission of performance reports in order to monitor progress of all institutions.
The CS challenged the institutions to think outside the box and invest in funding innovations.