KEMSA enters into partnership with Postal Corporation of Kenya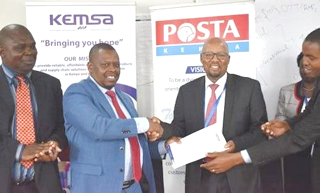 Nairobi 14th January 2020. Kenya Medical Supplies Authority (KEMSA) signing Partnership with Postal Corporation of Kenya (PCK).
Speaking at the signing ceremony, KEMSA CEO Dr. Jonah Manjari said that the partnership is part of KEMSA's preparedness for the scale up of Universal Health Coverage (UHC) to all the counties.  "In order to achieve and meet UHC needs, KEMSA is required to increase its capacity to supply essential Health Products and Technologies countrywide," noted Dr. Manjari.
 "The contract is worth 120 Million per year and is based on performance. We have no doubt on PCK's capacity because it commands a large fleet of vehicles, motorcycles and strategic warehouses in each region making it easier for the Authority to deliver HPT's to the last mile" said Dr. Manjari.
Dr. Manjari reiterated that there should be no doubt on KEMSA's commitment in ensuring consistent supply of safe, quality and affordable HPT's to all health facilities countrywide.
Post Master General and CEO PCK Mr. Dan Kagwe affirmed that they will follow the Service Level Agreement (SLA) to the letter.
Both parties are enthusiastic about this new partnership and the potential benefits it brings. KEMSA remains committed to provide reliable, affordable and quality health care to all Kenyans.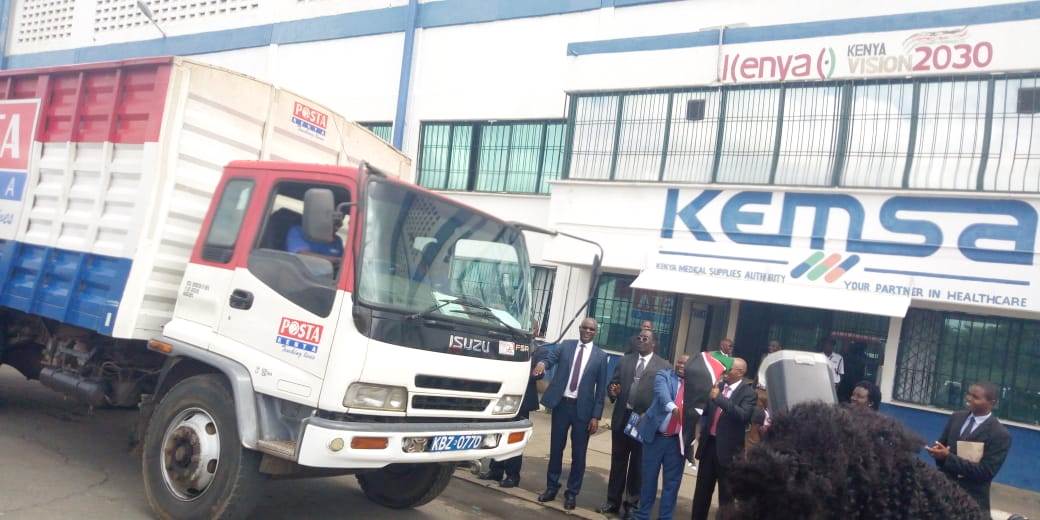 For more information, please contact:
Name: Leah Biketi
Cell phone: 0721 510 540
Email: leah.biketi@kemsa.go.ke
PR & Communications Officer
About KEMSA
Kenya Medical Supplies Authority (KEMSA) is a state corporation under the Ministry of Health established under the KEMSA Act 2013 whose mandate is to procure, warehouse and distribute HPT's for prescribed public health programs, the national strategic stock reserve, prescribed essential health packages and national referral hospitals. Establish a network of storage, packaging and distribution facilities for the provision of drugs and medical supplies to health institutions. Enter into partnership with or establish frameworks with County Governments for purposes of providing services in procurement, warehousing, distribution of drugs and medical supplies. Collect information and provide regular reports to the national and county governments on the status and cost effectiveness of procurement, the distribution and value of prescribed essential medical supplies delivered to health facilities, stock status and on any other aspects of supply system status and performance which may be required by stakeholders. Support County Governments to establish and maintain appropriate supply chain systems for drugs and medical supplies.