KEMSA Resumes Supplies of Medical Commodities to Nairobi County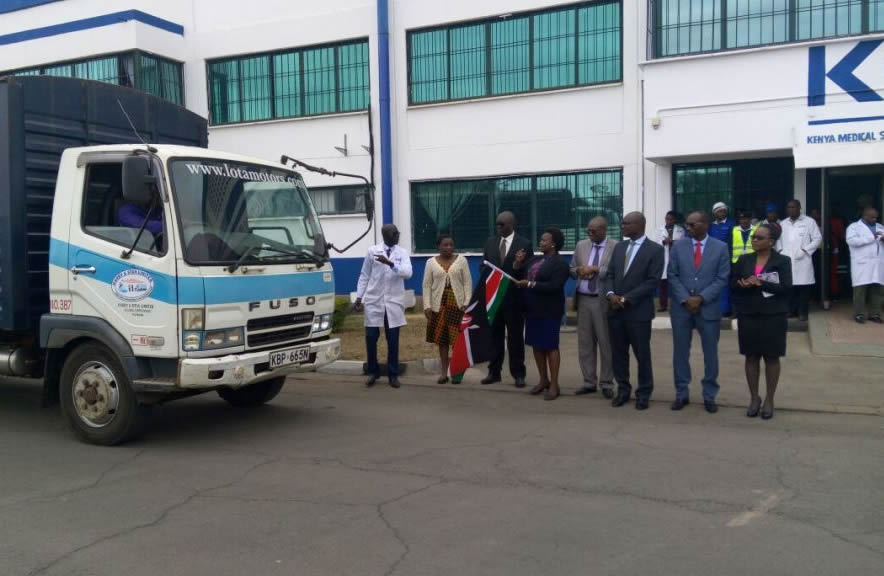 It's a big relief for Nairobians as the Kenya Medical Supplies Authority (KEMSA) resumed business with the county by supplying medical commodities worth Sh146,569,583 Million.
This followed intense discussions with the Nairobi Governor, Mr. Mike Sonko on the handling of the outstanding payment to KEMSA which currently stands at Sh234, 454, 054.28 Million.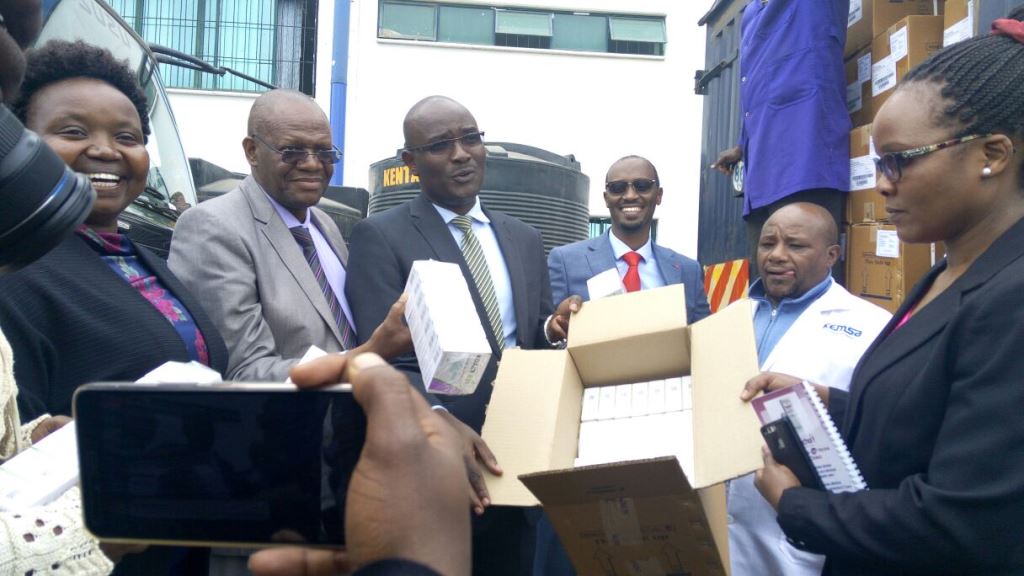 KEMSA, Chief Executive Officer, Dr Jonah Manjari said the Authority has resumed supplying to the County to end months of medical stock out in various health facilities in the capital city which has seen hue and cry from the residents demanding for better healthcare.
"We have had fruitful deliberations with the Governor, commitments have been made and we are now confident that having reached an understanding, we are fulfilling our mandate of delivering quality and affordable healthcare to all Kenyans," said Dr Manjari.
The medical order, the largest KEMSA has received form Nairobi County, marks an end to the medical commodities dry spell that has seen an uproar from the public and health practitioners countywide.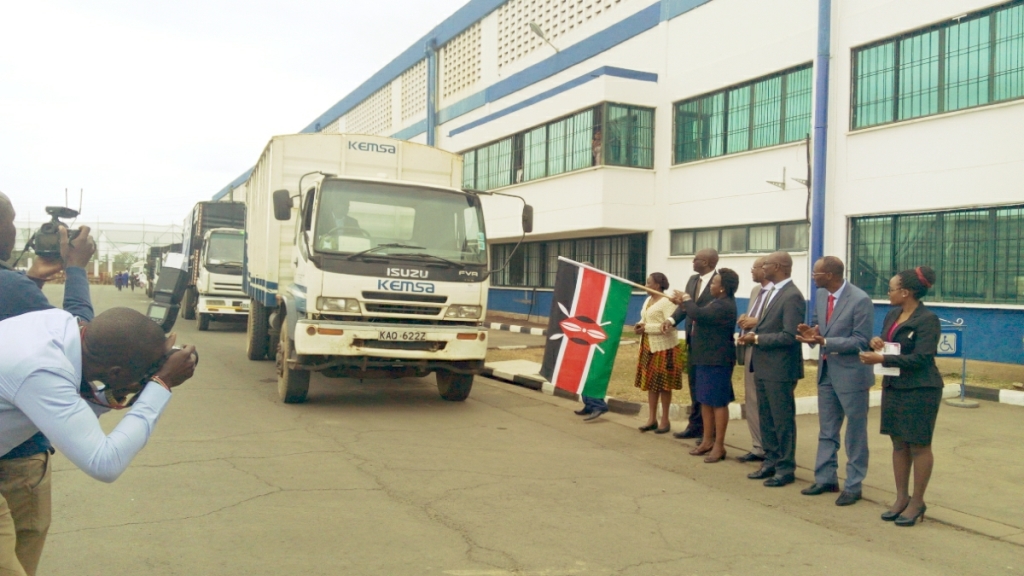 KEMSA last supplied Nairobi County in February 2017, before stoppage resulting from non-payment which put a strain on the Authority's ability to restock given that it operates on a revolving fund business model.
Speaking during the flag off at Embakasi Supply Chain Center, Dr Manjari said the agreement with Nairobi County is to service the outstanding debt of Sh234M every month to a tune of Sh30 million. The new order costing Sh146 million will on the other hand be paid on quarterly basis till completion.
"This is the arrangement we have been pursuing for months and we wish to commend the effort of Governor Sonko in making sure that Nairobi Residents receive the best health care possible and at affordable rates," said Dr Manjari.
He Continued, "KEMSA is delighted to continue serving Kenyans as guided by its mandate to ensure that County Governments access quality healthcare commodities and supplies at the right time and in the right quantities."
KEMSA has in the last one year been financially bogged down by huge medical commodities debts accrued by the counties currently totaling to about Sh1.8 Billion.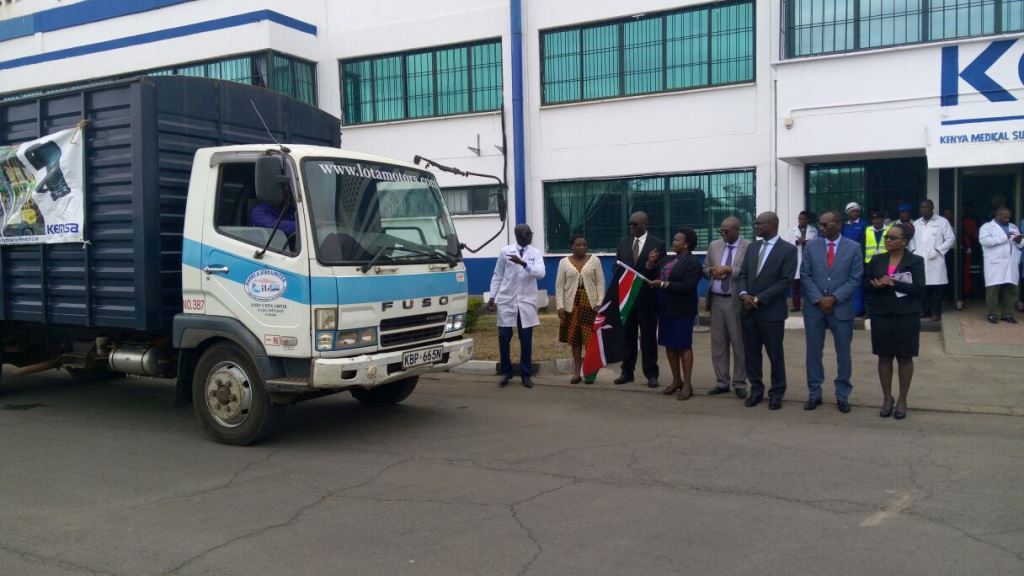 The CEO said there have been ongoing discussion with all counties owing KEMSA to find an amicable way of settling the outstanding debts.
He explained that KEMSA operates on a Not for profit self-sustaining business model and thus requires the Counties to make timely payments so that operations are not crippled.
Dr Manjari reaffirmed that the Authority remains fully committed to improve the quality of health care for all Kenyans, by enabling counties to procure quality medical commodities at an affordable cost through using its advantage of economies of scale.
He noted that KEMSA's operations have changed from its previous status, where the organization depended on funds from the government to procure to the current model where the Authority uses its own capital to buy medical commodities.
"KEMSA has been able to successfully shift from a push system of drug supply to a fully demand-driven supply system based on a not-for profit self-sustaining commercial model," explained Dr. Manjari.
Dr Manjari said the new business model requires that all orders received from the counties are subject to credit validation to ensure that KEMSA cash flow is not affected by non performing accounts. All counties that have not honored their credit period are suspended until the accounts are regularized. This is because KEMSA relies on a revolving fund from payments made by its customers.
However, KEMSA offers a 45-day credit period to allow counties to make payments factoring in that there may be issues that warrant the delay. Some Counties however surpass the credit period by months and hence when they place an order it is difficult for KEMSA to service their orders until they settle the outstanding payments.
"Let me commend Nairobi County, as what we are witnessing today symbolizes a shared vision and thriving relationship that will see Nairobi residents receive uninterrupted health care services," he said.