Speech by KEMSA, AG. Chief Executive Officer Mr. Fred Wanyonyi, during flagging off medical commodities in Kirinyaga County on 28th February 2018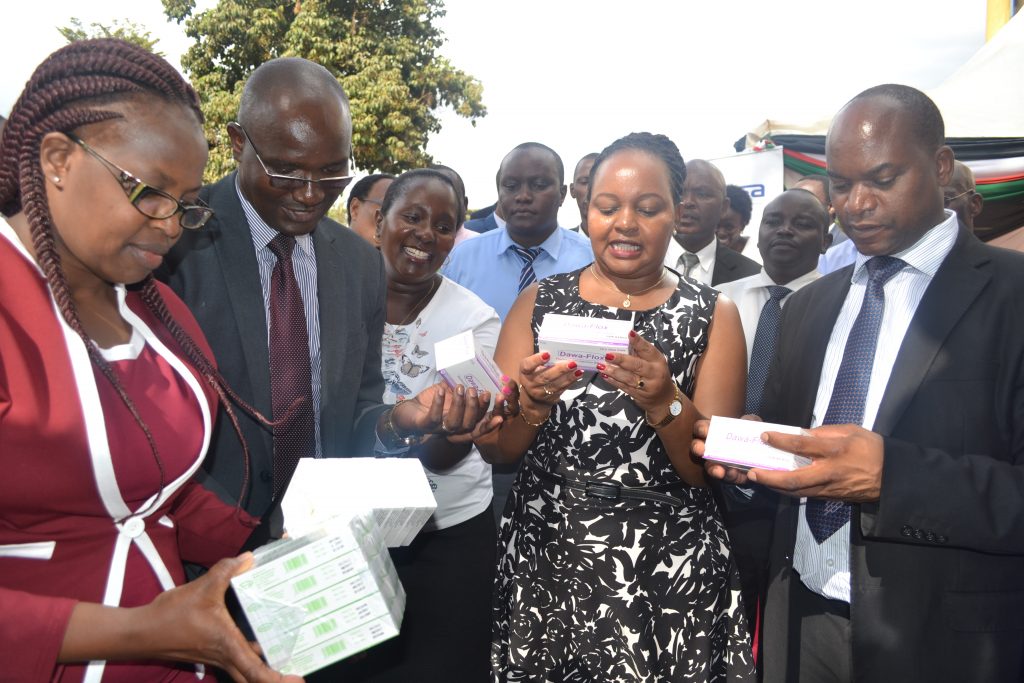 Governor Kirinyaga County- H.E. Anne Waiguru
Deputy Governor – H.E. Peter Ndambiri
CEC Health – Dr Agnes Gachoki
Chief Officer Health – Dr Stanely Muriithi
Distinguished Guests,
Ladies and Gentlemen,
I'm pleased to be here today to witness the flagging off of medical commodities worth KShs.46Million to complement efforts by Kirinyaga County Government in availing healthcare Services in the region.
The assorted medical commodities being flagged off today, will be distributed immediately to the estimated 65 Public Health facilities in Kirinyaga County to ensure uninterrupted healthcare service delivery to the more than 550,000 residents.
On behalf of KEMSA, I would like to thank the Governor for identifying KEMSA as an ideal partner in developing and enhancing cooperation in the supply of medical commodities.
These commodities will help tens of thousands of people and it is such achievements which I am confident have now set KEMSA on the right path of achieving its operational mandate.
Ladies and Gentlemen,
As you know the Government focus targets 100% Universal Healthcare Coverage for all households over the next five years. In line with this goal, KEMSA's objective is to increase availability of medical commodities and at affordable costs in order to lower the cost of healthcare.
KEMSA has made huge investments in automating all its business processes to ensure that counties medical commodities orders are received and processed on real time basis. This has been made possible by the Logistics Information Management System (LMIS), enabling KEMSA to inject efficiency in the supply chain services.
Through these innovations, the order turnaround time from quantification, order processing and delivery has dropped from 75 days to 15 days hence guaranteeing uninterrupted drug supply to the counties. In addition, Counties are able track the movement of their orders hence ensuring accurate and timely supply of medical commodities to all public health facilities nationwide.
KEMSA has fully integrated supply chain systems which has been tailor made to serve the devolved healthcare system by lowering the cost of healthcare, increasing access to healthcare services and improving National healthcare outcomes.
Ladies and Gentlemen,
Good healthcare is a pathway toward prosperous productive life and good citizenship that we wish for the residents of Kirinyaga.
The authority has robust infrastructure that allows it to distribute medical supplies to the door steps of the over 6,000 facilities and 5,047 HIV/AIDS testing sites that offer rapid testing across Kenya.
KEMSA guarantees uninterrupted supply of essential medicines in line with its vision "To be a leader in innovative health supply chain solutions that support better health service delivery."
KEMSA will continue to enter into strategic partnerships with all the counties to deliver top quality and affordable health services to all the citizens of Kenya.
Ladies and Gentlemen,
I am delighted to note that KEMSA is currently piloting a new technology 'Commodity Dispensing System' that will enable counties to manage their pharmacies inventory by being able to track stock levels and movement and make real time reports to the county governments for reorder.
The system will bridge the gap of data entry done at the facilities, since it will be linked to the KEMSA Logistics Management Information System (LMIS) and therefore the consumption reports will be generated and relayed directly to the KEMSA LMIS on real time basis.
This will help reduce the Order Turn Around Time from the 5-10 days spent by facilities preparing the reports to send to KEMSA to zero. Consequently, KEMSA will capitalize on delivering commodities within a shorter period than before.
Finally Ladies and Gentlemen,
I wish to sincerely thank H.E the Governor and her team for ensuring the flag off of these commodities has taken place. I also wish to call on all our state Governors to see this as a call to action and make primary health care a priority.
Now, I hereby formally flag off the medical commodities that will be distributed to the door step of all public health facilities in Kirinyaga County.
God bless you, God bless Kirinyaga