The KEMSA and UNICEF Malnutrition Project Boosted To Reach Five Million People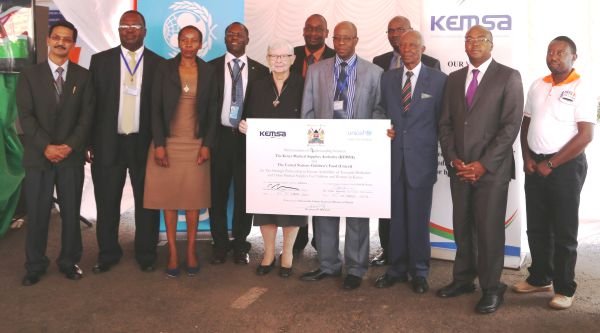 The Kenya Medical Supplies Authority (KEMSA) and United Nations Children's Fund (UNICEF) have put plans to boost nutritional, essential drugs and other medical commodities to reach five million Kenyans.
KEMSA Chief Executive Officer Dr John Munyu said the new project taps into the success of the  earlier Ready to Use Therapeutic Foods  pilot project worth Ksh. 515 Million (USD 5 Million) that targeted Turkana and Laikipia Counties.
Under the expanded project, KEMSA and UNICEF will reach five more counties; Marsabit, Mandera, West Pokot, Baringo, Samburu, Laikipia and Nairobi, increasing the coverage to seven counties and eventually roll out in all the 47 counties.
"By integrating the nutrition and health supply chain into KEMSA, we will eliminate duplication of roles and ensure equitable access to medical commodities by malnourished children and all Kenyans," said Dr Munyu.
Speaking during a consultative meeting at KEMSA Supply Chain Center, Embakasi, DrMunyu said the Authority is keen to collaborate with strategic partners like UNICEF in availing essential medical commodities for better health outcomes.
UNICEF representative Mr. Werner Schultinksaid KEMSA will centrally provide adequate, safe and secure warehousing and distribution for allessential medicines & other medical supplies. He noted that development partners had confidence with KEMSA supply chain and are keen to support KEMSA in strengthen its systems.
Hesaid the pilot project supports the achievement of Vision 2030 which seeks to ensure that there will be no incidences of lack of essential medicines and other medical suppliesreported in the country.
Schultink said UNICEF is currently looking to see how Ready To Use Therapeutic Food can be further enhanced by either using other local ingredients to make them cheaper.
"We need to puish producers f products to come up with better products which are cheaper and give better results," Said Schultink.
UNICEF Representatitve commended KEMSA for a job well done and nted that other countries should learn from KEMSA
The project led by the MoH, KEMSA and UNICEF has also seen other partners like Government of Japan, World Food Program, USAID, DFID and World Bank among others join to alleviate suffering of vulnerable children in the country.
Dr Munyu said the strategic partnership between UNICEF and KEMSAdemonstratedshared goals and objectives with regard to the need for stronger ties to support the newly devolved 47 county governments.
"KEMSA is proud to collaborate with UNICEF for the common good of vulnerable children and women. The support accorded to KEMSA by UNICEF has seen the last mile of parallel nutrition supply chain collapse," stated Dr Munyu.
He noted that commodities supply chain in Kenya was previously complicated by the numerous parallel supply chain systems that duplicate effort.Supply of essential medicines and other medical supplies in Kenya are currently done through collaborative effort between MoH, KEMSA and development partners.
The various nutrition supply chain initiatives will be linked together for greater consistency, efficiency, and effectiveness. This integration of nutrition commodities will also be managed by Dietetics Nutrition Unit in collaboration with the Counties and KEMSA.
Nutrition supply chain will eventually be scaled up and executed in all 47 counties whilst leveraging on the national healthcare supply chain system managed by KEMSA.
Dr. Munyu affirmed that KEMSA has scaled up Logistics Management Information System(LMIS) to facilitate ease in order management including order placement and reporting.
KEMSA will continue to build the capacity of the counties in commodities and consumption data management and is committed to ensure that forecasting and quantification is based on data collected through LMIS from all the health facilities countrywide.
KEMSA CEO Dr. John Munyu  receives the new UNICEF representative Mr. Werner Schultink when he paid a visit to KEMSA supply chain centre in Embakasi Nairobi on August 30th 2016.